Reliance Welcomes 2020 Apprentices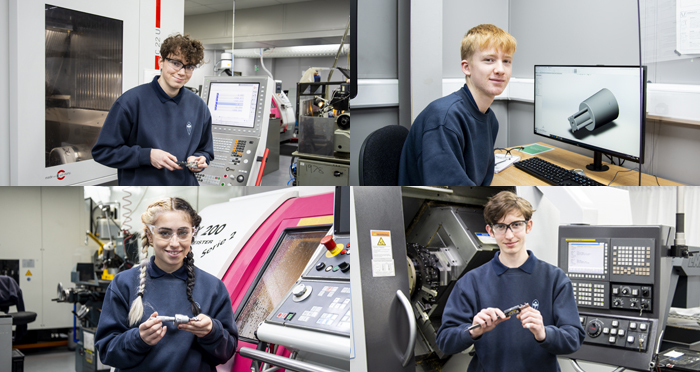 Reliance Precision Limited ('Reliance') is delighted to welcome its 2020 engineering apprentice intake – Josh McDowell, Eddie Startin, Daisy Brooke and Archie Barraclough.
The four successful candidates join Reliance straight from high school, with three of the apprentices having previously undertaken general work experience at the company. Rob Farrell, Reliance's Training School Team Leader, explains "Many of the young people who applied had met us through the careers fairs we attend at local schools and colleges. These events are a great opportunity for students to learn more about Reliance and the career paths available. It's encouraging that so many remember us and apply for either work experience or the apprenticeship scheme. This year we are attending a number of virtual events. You can check our website for more information".
As in previous years, the quality of applicants for the four-year apprenticeship programme was of a very high standard. Fortunately, the recruitment process was almost complete when COVID-19 restrictions came into force and the applicants had already been able to undertake a tour of Reliance's facility and complete the theoretical and practical tests. Only the final stage, the personal interviews with the senior management team were affected and had to be conducted online.
The restrictions have also meant a slightly different start to the apprenticeship programme than in previous years. Current workplace and social distances measures have meant that the young engineers began their training at Kirklees College Engineering Centre. During this time, Reliance has worked to develop new ways to provide training in a safe and effective manner.
Rob comments "I'm delighted with how well the new apprentices have settled in. It's not been the most straightforward of starts, but they have all handled the situation with maturity, understanding and enthusiasm." He continues " We're working hard to ensure that our apprentices receive the high standard of training Reliance are known for, even in the current circumstances. I'm looking forward to seeing them develop their skills and knowledge over the next four years as they embark on the journey to become the highly skilled mechanical engineers of our future."
Applications for Reliance's 2021 apprenticeship intake are now open. For further information please visit https://www.reliance.co.uk/apprenticeship-scheme.