Reliance Announces 2020 Apprenticeship Award Winners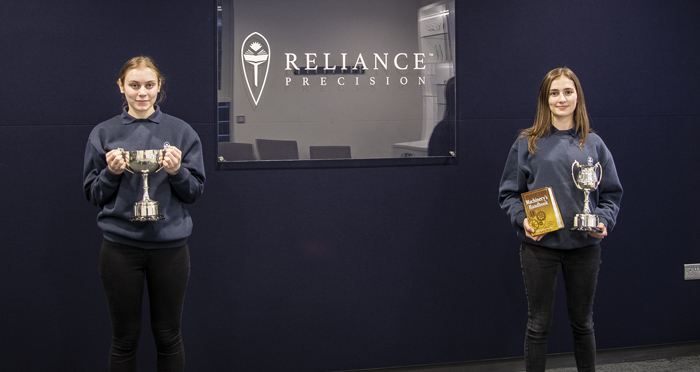 Reliance Precision Limited ('Reliance') is delighted to announce the winners of its 2020 Apprenticeship Awards – Nicole Le-Talbot as Apprentice of the Year, and Maria Perrins as First Year Apprentice of the Year.
The annual awards, timed to coincide with National Apprenticeship Week (8 – 14 February 2021), celebrate the value apprentices bring to the organisation. The Government have chosen 'Build the Future' as the theme this year, to encourage everyone to consider how apprenticeships can help individuals to develop the skills and knowledge required for a rewarding career, and employers to build a workforce with future ready skills. This was a view which Reliance's founder, Max Selka, firmly held when he introduced the Engineering Apprenticeship Scheme over 60 years ago. Today, over a quarter of Reliance's workforce are apprentice trained.
This year's winner of the Apprentice of the Year award, Nicole Le-Talbot, receives the Max Selka Trophy along with a prize of personal development vouchers. The award is a recognition of Nicole's efforts throughout the year alongside her positive attitude to learning and working. She maintains a high level of consistency in her work at all times, and feedback from within the business is that she continues to impress. Nicole comments "I was very pleased when I was told I had been awarded Apprentice of the Year. It made me realise that all the hard work throughout my apprenticeship had been recognised, not just by my department and team leaders, but by Reliance's management team. It's such a good feeling. I am genuinely very appreciative of receiving this award."
The winners
Maria Perrins, winner of First Year Apprentice of the Year, is awarded the SMS Cup and a prize of a specialist Machinery's Handbook. This award is particularly special as the recipient is nominated by their first-year apprentice colleagues. This year it was a unanimous vote and Rob Farrell, Reliance's Training School Team Leader, was in agreement that Maria was deserving of the accolade. Maria comments "I am very grateful to have received this award, especially as I was nominated by the other apprentices in my year, whose opinions I really value. I also appreciate the importance of the award, and the value I know it holds within the company."
Rob concludes "Both Nicole and Maria are very worthy winners of their respective awards. We continue to recognise the benefits the business can gain from our young apprentices and we feel it's important to reward them for their efforts and the contribution they make."
For more information on our apprenticeship scheme and how to apply.